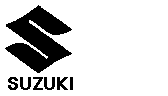 Welcome to Farokh's Suzuki page.
This page is just starting out, so there's not a whole lot here (yet).
Here's the recommended procedure for storing your bike for the winter (or any other extended period).

So, just how does the motorcylists' Cost to Society stack up to other costs to society? Well, here's a graph that shows some startling figures for the USA.

Pictures of my bikes over the years.
---
For some other motorcycle related sites check out my Motorcycle Link Page
---
---
Farokh's Rest Area